Frequently Asked Questions
Getting Started with Overseer
Last Updated 9 years ago
To get started you will need;
The Website Address to your Overseer (something like http://demo.overseer-station.com).
Your Username.
Your Password.
If you have not already been given these details you will need to contact your website Administrator to ask them to set you up with the details.
Software Requirements
You will need to install the XStandard Lite plugin. This is available for Windows and Mac OS X; it is not available for Unix/Linux. The plugin runs in Internet Explorer, Firefox, Safari and Opera browsers.

Signing in
Enter the Website Address into your internet browser and the first screen that your will see will ask you for your User Name and Password.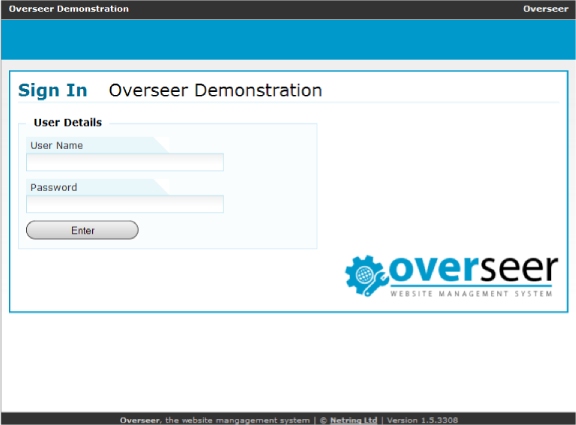 The Overseer layout
When you have signed in, you will see the welcome screen that looks like this:

There are three parts to the top navigation area that we now wish to highlight:
1. The Project Name and User Link
At the top left of the page you will see the name of your Overseer project and a reminder of who you are signed in as.

You can click your name to change some of your details and reset your password.
2. The Utilities
This is a list of some utilities available to use.
The items you see will depend upon what type of account you have. We will discuss how to use each feature in separate tutorials.
People (coming)
Account (coming)
Tools (coming)
3. The Modules
Overseer is split up into different Modules. You will see a list of tabs here to represent the modules used by your project.
The modules you have access to will depend upon your user permissions.

We will discuss how to get started with each module in separate tutorials.